Conducting A WordPress SEO Google Ranking Experiment
I decided to run a WordPress SEO Google ranking experiment and share the results with you.
Basically this post IS the experiment.
I am not a SEO expert. I do however have extensive knowledge on the about what website SEO is about. I'm not sure what this experiment will reveal, but then, that's the point of conducting an experiment. It's 2018 and as far as I know the Google algorithm for ranking pages is changing more and more often.
First SEO advice I want to give you is:
Stay away from black hat SEO techniques.
Black hat SEO refers to shady techniques like keyword stuffing, hiding keywords in the page, hacking other sites and placing incoming links, etc.
There are lots of "experts" out there promising quick results. They are usually scams. Black hat SEO methods might give results on the short term, but Google will penalize you in the end. Your site will probably not recover after that.
The purpose of the experiment is to see whether deploying my particular WordPress SEO technique for this post will yield positive results and then see what can be improved.
Let's get started.
The design of my WordPress SEO Google ranking experiment is straight forwards:
I will emit a hypothesis
then I will establish the experiment variables in the form of a WordPress SEO Checklist and decide how exactly to implement it. The checklist will cover known Google ranking signals that determine how a page is ranked with Google. Known by me that is.
I will decide on the method of measuring the results
I'll start the experiment and collect the data for analysis
I will try to come back to the experiment and make adjustments, then go through the analysis part again
The Hypothesis Of My WordPress SEO Google Ranking Experiment
The hypothesis is simple:
Deploying a few simple rules and SEO methods when writing this post should allow the post to get ranked with Google. In other words, good SEO practices should result in organic traffic for the targeted keywords.
Please note that not being a SEO professional my knowledge about SEO techniques only goes so far. When doing SEO you have two options:
hire a SEO company to get you to rank high with Google and other search engines. This will cost you
or, do it yourself SEO (diy SEO – now that's a good keyword) also known as free SEO
How To Do SEO For Free
Let's face it,
I don't want to spend money on SEO for this experiment, so I'll stick to diy SEO.
Anyway, this will be the case for most bloggers like myself. So, we will have to rely on our own SEO knowledge.
I have done a lot of reading about SEO guidelines and practices online. There are tons of good sources out there. I have to say though, that lately I've been following Neil Patel's SEO blog a lot. He has tons of materials including videos about SEO methodologies and techniques.
Another great source for learning SEO is Brian Dean and his awesome Baklinko site. I learned a lot from Brian, especially about how to improve my writing.
For this SEO experiment I did some keyword research. Whenever I do SEO keyword research for my posts I always go to this awesome list of SEO keyword suggestion tools. Pick one or all tools from there and start digging for keyword nuggets.
We will be using WordPress for this SEO experiment. So, I suggest to use the Yoast SEO WordPress Plugin which does an amazing job for WordPress SEO for free.
WordPress SEO Checklist For My SEO Experiment
✔ Keyword research

✔ Select The Best Focus Keywords And Secondary Keywords

✔ Use The Focus Keywords In The URL Slug

✔ The SEO META Tags Should Contain The Focus Keywords

✔ Write A Post That Is Minimum 300 Words

✔ Use The Focus Keywords In H1, H2, H3 Tags, In Image Alt Attributes And In The Content

✔ Inbound And Outbound Quality Links

✔ Ensure You Don't Have Spelling Errors

✔ Content Is King In 2018 Too
✔ Keyword research
No matter the tool you use the technique for keyword research will be the same.
Here's how I do it:
I will first choose a few keywords that are on and around the topic. For this particular post I chose:
seo experiment
seo google ranking experiment
wordpress seo experiment
seo keyword ranking experiment
I then put them in a keyword suggestion tool from and processed it with the following parameters:
only English searches
located in the United States
I'm only interested in web searches (not YouTube, images or other channels)
The results I got look something like this:
Most keyword tools will offer you at least two measures:
Google keyword volume checker – an estimation of how many searches per month
an indication of the amount of competition for the keyword
I also added an extra column in Excel to give me the number of words in a particular keyword. Here's the Excel formula for counting words in a keyword phrase:
=LEN(A2)-LEN(SUBSTITUTE(A2," ",""))+1
The number of words in a keyword is useful because we want to spot long tail keywords. More words in a keyword means a more specific user search intent. And that spells a higher chance for your page to rank for that keyword.
✔ Select The Best Focus Keywords And Secondary Keywords
Using a Google keyword volume checker, competition and the long tail keyword indication you will have to make a decision.
Which is the focus keyword for the post?
This is very important because it's how we want people to find the post. Selecting the best focus keyword for a post is sort of a guess for me. Looking at the data available I will select the keywords with the best combination of low competition and high search volume.
Because my blog is not ranking very high overall, I have to focus on lower competition keywords. Also, it would be nice to rank for the keyword SEO, but the probability of ranking high for that keyword is virtually 0%
So, I have to find some long tail keywords.
For this post I chose WordPress SEO Google ranking experiment.
It contains a balanced combination of popular keywords like:
WordPress SEO – between 1k-10k visits and low competition
SEO Google ranking – between 100-1k visits and low competition
Google ranking – between 1k-10k visits and low competition
It's important to know how these keyword suggestion tools work. They give estimations regarding visits and competition. Usually visits are estimated from historical data and competition is mainly derived from Google AdWords. That means that competition is not how many other websites cover a keyword, but rather how many advertisers want to acquire the keywords for placing ads.
What's next?
Using the same keyword selection criteria we should pick a few secondary keywords to use in our post.
✔ Use The Focus Keywords In The URL Slug
The URL of the post will be //www.coding-dude.com/wp/wordpress-seo-google-ranking-experiment/
The slug is the part of the URL that uniquely identifies your post. In th case of this post it's "wordpress-seo-google-ranking-experiment".
Notice that instead of spaces, we use hyphens. This is considered a SEO best practice for making a Google friendly URL.
Since we are using WordPress, changing the slug is very easy to do.
We used our focus keyword in the slug, so let's move on.
✔ The SEO META Tags Should Contain The Focus Keywords
SEO Meta tags refer to the title and description HTML Meta tags. These are important for two reasons:
Google will look at the title and description meta tags and take them into account when ranking the page
The way the SEO Meta tags for title and description look determine the SERP – search engine results page – entry. In other words, how does the search result look in Google. The Yoast SEO WordPress plugin provides a way to change the SEO meta tags and a preview of the SERP. By the way, I recently published a SERP checker PHP script – a Google keywords rank checker for your pages and also allows you to preview your site's SERP.
Note this
For my title meta I put in My WordPress SEO Google Ranking Experiment In 2018 which includes both my focus keywords and a reference to the year. This is important because users searching on Google will get to see this title and the year will be an indication on how fresh to content is.
In the description I just used parts that are also present in the post which include the focus keywords.
SEO guidelines for meta keywords are simple:
Include the focus keywords in both the title and description
The title should be no longer than 66 character long and the description no longer than 157 characters. These numbers are just guidelines, but you should pay attention to how the SERP looks like in the SERP preview offered by Yoast SEO.
Let's move on to writing the actual content for the post.
✔ Write A Post That Is Minimum 300 Words
The WordPress editor indicates in the lower left corner the number of words in the post.
As a SEO rule of thumb for post length you should know that 300 words is considered the minimum.
I'm well beyond that with over 1400 words at this point, and the end result will be longer.
How long should a post be?
In my experience, the longer the post the better. Google sees long posts as containing more information than shorter posts. This is usually true, unless some black hat SEO techniques are involved like keyword stuffing.
✔ Use The Focus Keywords In H1, H2, H3 Tags, In Image Alt Attributes And In The Content
I think it's obvious:
You should use the focus keywords inside the content of the post. But where and how many times.
Let's start with the where:
H1, H2 and H3 tags are good places for placing the keywords. Also, the keywords should be as close as possible to the beginning of the tag.
Don't forget:
Don't place more than one H1 tag on the page. The H1 tag will is one of the strongest Google ranking signal and it will tell Google and your reader what your page is about. Of course, Google will probably figure out what the page is about from other signals.
One more thing:
Google likes pages with images. That is because users also like content with images. So, adding at least one image in the content is a must. Adding alt="image description" to your images is another SEO best practice that will allow Google to understand the image content. Using the focus keyword in the alt attribute is even better.
In this post I did all this. I also sprinkled some secondary keywords related to WordPress SEO here and there.
✔ Inbound And Outbound Quality Links
Another SEO Google ranking signal is the number and quality of inbound and outbound links.
Inbound links are links to content on the same domain.
Outbound links are links to content on other domains.
Both inbound and outbound linked articles should be on similar topics as the article you are writing. In my case, I used several outbound links to high quality SEO blogs. I also linked some internal posts on the topic of SEO.
✔ Ensure You Don't Have Spelling Errors
You might not know it
But, one SEO Google ranking signal is whether your post is spelled correctly. The idea is probably that a carefully crafted post is more valuable than one done in haste. Also, a better grasp of the language gives more authority to the information contained in the post. Google rewards correct spelling because they want to give readers the best experience.
So, the spell checker in the editor becomes one useful WordPress SEO tool.
✔ Content Is King In 2018 Too
You've heard this before
Content is king. That means that above and beyond any SEO guidelines you may follow, a post is only as valuable as the information that the reader gets. If they find the content useful they will read it, come back to it, share it on their social networks, link to it, etc. These in turn will all be SEO Google ranking signals which will help your page. By the way, these are called off site ranking signals.
Let's get back to our on site SEO techniques.
The checklist above is not set in stone. For sure a SEO expert will say that this barely scratches the surface when it comes to on site SEO. But for my WordPress SEO Google ranking experiment it will have to do. In fact, the same SEO checklist is applicable for other site platforms, not only WordPress SEO.
With our post complete, let's see what and how we will measure the success of our SEO experiment.
How To Measure The Results Of My SEO Google Ranking Experiment
There are a lot of tools that allow you to do a SEO check online of your website.
To keep it simple
I will only use the ones offered by Google. This is in the end an experiment for getting ranked on Google.
For measuring the results of my WordPress SEO Google ranking experiment I will use the following tools:
Google Search engine I will perform searches at regular intervals using the focus keywords and the secondary keywords. I will try to find my content and record the rank.
Google Webmaster Tools Using GWMT I will first submit the page to Google for it to be indexed. I will then periodically monitor the search queries for which the page appears in the results. I will also check on the actual rank of the page.
Google Analytics A most convenient way to check page organic traffic.
The results for Google Search should be available in approximately half a day after the article is published and submitted via GWMT. This will only be relevant for checking that Google ranks the article for the expected keywords. However, that will not guarantee that I get organic traffic for the keyword WordPress SEO Google ranking experiment.
Google Webmaster Tools offers Search Analytics. This shows which pages show up for which queries in Google, how many times and on what position. It takes approximately 4 days for the search data  to be available in the Search Analytics. Here's how the data looks in GWMT.
I will be able to post the results for this very soon after publishing the article. Please check the results section below.
✔ Social Media SEO
Getting extra traffic to a webpage can only be beneficial for SEO. One very important traffic source besides search engine traffic is social media network traffic.
If done right, managing your social media networks can drive even more traffic to a website than the search engines. You need to know what you're doing though. Check out my post on How To Become A Social Media Manager to understand what it takes to run effective social media marketing campaigns.
Starting My WordPress SEO Google Ranking Experiment
It's June 21st, 2018.
I'm starting my WordPress SEO Google ranking experiment today. Wish me luck.
To submit the page to GWMT I have to use fetch as Google and then request indexing.
After submitting the page to GWMT I will check to see if my page is indexed. To search a website through Google:
site://www.coding-dude.com/wp/wordpress-seo-google-ranking-experiment/ This will tell me if Google has indexed my page and it will show me the SERP for my page.
cache://www.coding-dude.com/wp/wordpress-seo-google-ranking-experiment/ This will show me the page in the Google cache together with the exact time of the latest cached version.
I will run the following Google Analytics report:
Behaviour > Site Content > All Pages then filter on the WordPress SEO Google Ranking Experiment page and add a secondary dimension Source/Medium.
Sometime on the June 25th, 2018 I should start seeing results in GWMT under the Search Analytics.
Results Of My WordPress SEO Google Ranking Experiment
More and more details will be be incrementally added below
Let's perform a quick SEO check online. I will ask Google to test my site.
Day #0 – Google Index Status
I've requested the page to be indexed on Thursday, June 21, 2018 at 6:01:15 AM PDT
After a couple of hours the page is indexed:
Google Search Results
The easiest way to determine Google ranking for a page is by searching. Searching for the keywords: WordPress seo google ranking experiment returns my page on first position. This looks promising:
If I search only for SEO Google ranking experiment I find my site on page 3. Still good I guess.
Here's the overview of keyword searches and the search engine position ranking of the page in the results:
WordPress SEO google ranking experiment – 🌟 first page, first position
YOAST SEO google ranking experiment – 🌟 first page, first position – a bit unexpected since the article is not focused on the YOAST SEO WordPress plugin
wordpress seo experiment results – 🌟 first page, first position – the surprise here for me is the fact that the SERP has a different title than the one I set in the SEO meta tags. The title in the SERP is "Results Of My WordPress SEO Google Ranking Experiment In 2018"
SEO WordPress Google experiment results – 🌟 first page, first position – a few hours after publishing the page was the second result, and now it climbed to the first position
WordPress GWMT SEO experiments – 🌟 first page, first position
SEO Google ranking experiment 2018 – first page, second position right after Neil Patel's result (not bad!)
SEO Google ranking experiment – page 3
Google ranking experiment – page 3
Day #1 First Google Organic Search Visits
If you don't know how to find organic search traffic in Google Analytics, here's 2 ways how to do it:
Go to Acquisition > All Traffic > Channels, then select Organic Search.
Or, simply click on the box that says "Choose Segment From List" and scroll down and check the "Organic Traffic"
It's been less than a day and I already see some results. Looking into Google Analytics visits by country: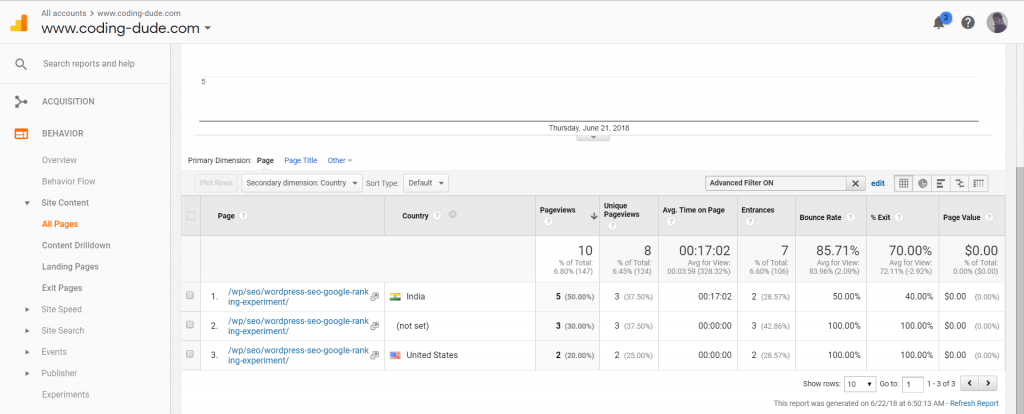 Google Analytics entrances shows how many people have visited the page. For this experiment I excluded my own visits.
Google Analytics time on page shows that people have actually spent time to read the article (thank you).
Since this a WordPress SEO Google ranking experiment, I am mainly interested in seeing Google organic search traffic. So, I pulled out another Google Analytics report:
This Google Analytics report shows how many visits this page received via Google organic searches. It's only 6 for the moment, but I think it's a good start.
Let's wait a few days to see what happens.
Day #10
I'm not going to lie to you, it's not going too well. SEO is a very competitive keyword area and my site is not really a top domain authority.
Let's see what Google Webmaster Tools shows in the Search Analytics
So, only 5 clicks in the search results for the last 10 days.
But, I won't give up.
I'm holding on to this post and I will try my best to improve the Google ranking as much as I can. Please keep in mind that I still haven't done any off site SEO.
What is promising is that I did get 538 impressions. That means my page is getting ranked by Google for a lot of keywords, but I'm ranking around position 181. That is on page 19 of the search results. No one will ever find me there, so I need to do something to move up.
I will do some more reading on other Google content experiments in WordPress and see how to get keyword ranking up in Google.
My strategy next will be to folds:
To find better ranking keywords which will hopefully improve my total impressions count.
Do a bit of off page SEO to improve the visibility and ranking of my page. That means some social network promotion, comment placing, forum discussions and some begging for links.
Will report back in another 10 days.
SEO Analysis Report Day #20
Let's see what is the effect of our SEO improvements. For this SEO report analysis I've used Google Webmaster Tools and I've compared Last 7 days against previous 7 days.
Because there is a delay in Google data collection, though today is July 10, 2018 the data only goes to July 8.
So, what does this data tell us?
Basically, we got 2 clicks from Google searches. Strictly statistically that spells: I've doubled my Google traffic. Not statistically speaking… I think it's still too early to tell.
One thing that is obvious is the search impressions went up 1000%. I know this is not a post about how to make SEO reports for clients, so I would still say that it's a bit early. I need to wait some more for the results to stabilize.
Having said that, the positive thing is that I just received a list of over 100 keywords that people actually search. That's a very good point for me to use a starting point for searching new keywords that will improve ranking.
In the next couple of weeks I will try to do some more off-page SEO. Meaning: I will try to get some fellow bloggers to link to this post. By the way, if you are reading this, and want to help this experiment, place a link to this post.
Next report will be in 10 days.